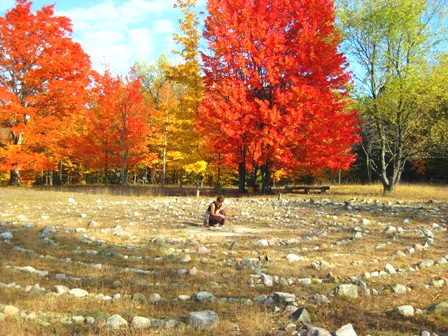 Five simple, cozy cabins and camping space for solitude and prayer or for your small group process.
Cabins are rustic yet inviting, encouraging re-connection with earth, body and spirit for healing, inspiration and conversation. The cabins are situated within close walking distance of each other, yet are spaced far enough apart to allow for privacy and solitude. There are over 135 acres of diverse forest land to explore right outside your door.
Our clean, quaint composting outhouses are earth-conscious and add character to your experience. Commodes are also available indoors.
All facilities are supplied with an equipped kitchen, basic condiments, cleaning supplies, paper towels, toilet paper, and dish towels.
We do not provide linens for the beds, bath towels, food, or housekeeping.  We ask that you leave the cabins as you find them.  We practice the Wilderness Ethic: What you carry in, you carry out.
We are committed to keeping MorningStar available and affordable to all.  Our suggested donation for use of this cabin, the land, and its resources is as follows:
Nightly cabin rentals are $50 to $60 for the first person, and $30 for each additional adult, per night.   There is a charge of $10 per night per additional child.  The appropriate donation for an extended stay of over seven days will be determined on a case-by-case basis.  A non-refundable $55 deposit is required at the time of reservation and is applied to the first night's stay.  Late check out is available.
To reserve a cabin, click here
To make a donation or payment toward your retreat, click on the 'Donate' button above. Also, please consider adding $2-$5 to your donation to cover our fees for providing this convenience. Thank you!
Gabriel's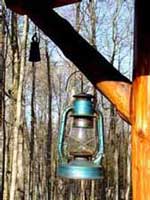 Gabriel's is a quaint cedar log cabin with a loft tucked in the woods and comfortably sleeps one to four people. The cabin's amenities include electricity, a full kitchen, ceiling fan, gas-stove for heat, and an outhouse…a balance of comfort and simplicity.
Kay Blue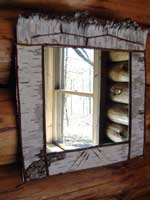 Kay Blue, a log cabin with large windows and a loft, sits on the edge of a clearing with an expansive view to the sky. It sleeps 1-2 people.
It has kerosene lamps, a counter-top two-burner cook stove, a large sink, a cooler, an outdoor faucet, filled water containers, a gas stove for heating, and an outhouse.
Mother Lodge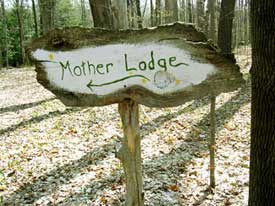 Mother Lodge, a log cabin "womb" overlooking the creek, sleeps 1-5 people.
It has electricity, an indoor toilet and tub, hand pump, full-kitchen, a wood-burning stove for heating, and a large screened-in porch.
Poustinia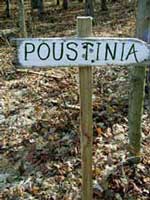 Poustinia is a Russian word meaning "desert place," and is a small, sparsely furnished cabin where one may go to pray and listen in the silence for the ways Spirit may speak to the heart.
MorningStar's Poustinia is a one-person cozy space, perfect for a quiet time of prayer, reflection, or simply being. She sits atop a woodland knoll. The large picture window looks out over a forest of maples, red pine, and spruce. Amenities include kerosene lamps, a woodstove, two-burner cook stove, spacious screened-in porch, water provided, and an outhouse.
Morning Glory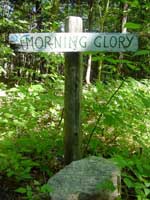 Morning Glory, available for short or sabbatical retreats, sits nestled in hemlocks overlooking the creek, sleeps 1-4 people.
It has electricity, running water, full-kitchen, a screened-in porch, and an outhouse.
Raven's Nest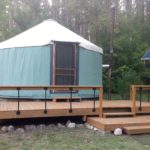 Raven's Nest is our newest space and is cozy and rustic at the same time. It is best suited for one person, perhaps two at the most. The yurt's amenities include solar electricity, wood burning stove for heat, a fan, a sink, a three burner gas stove top, and an outhouse, as well as a large deck for communing with nature.